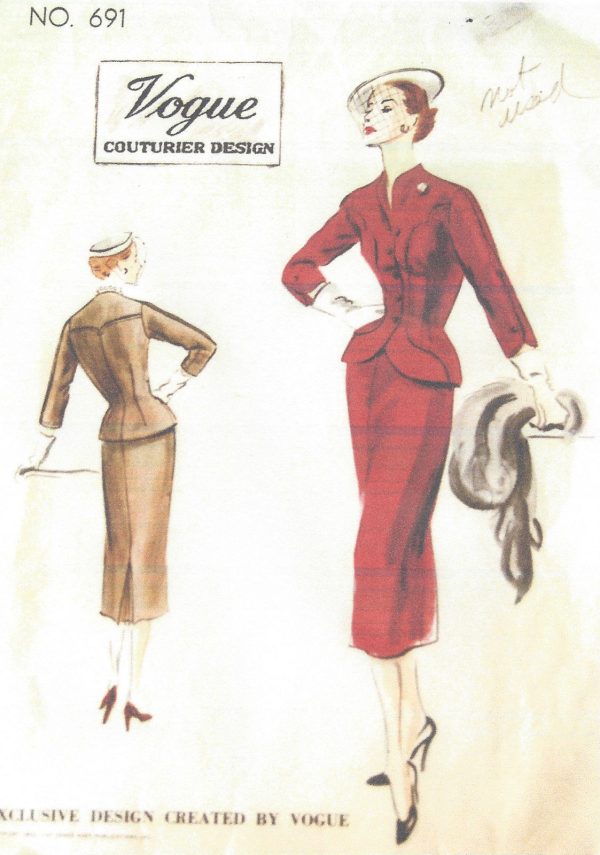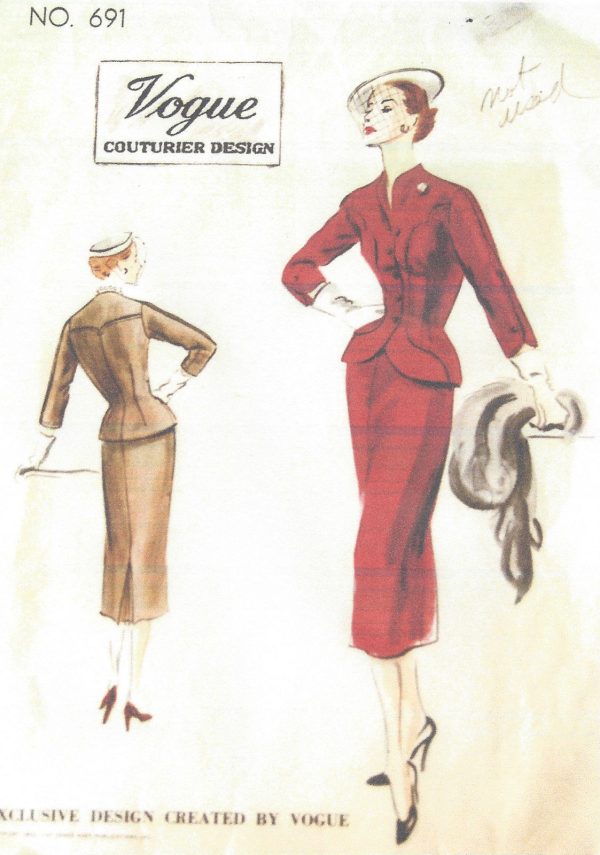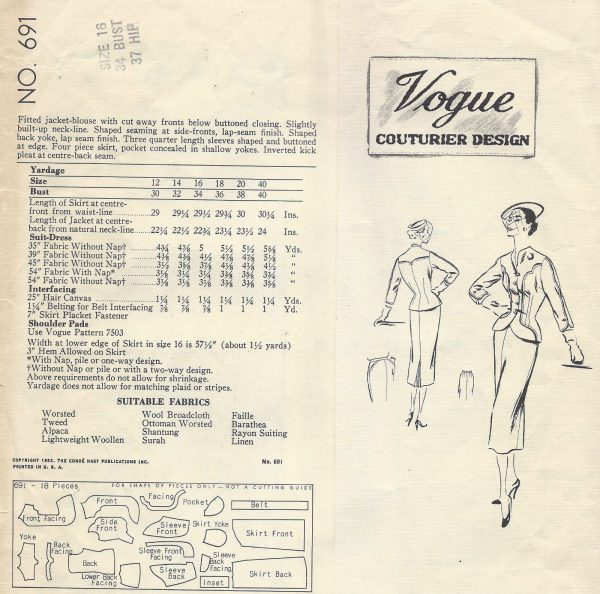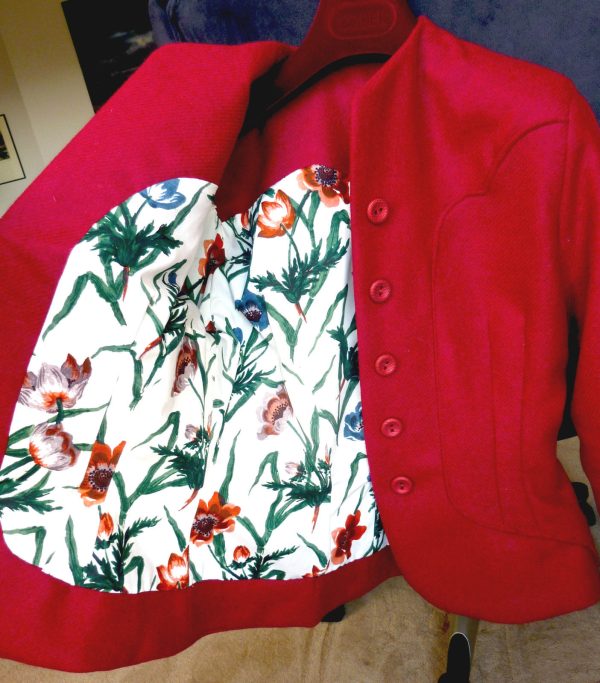 1952 Vintage VOGUE Sewing Pattern B34 SUIT-JACKET & SKIRT (1110)
192 in stock
Description
Additional information
Description
Click here to view our shop Be sure to add me to your favourites list! Sign up for my email newsletters by adding my eBay Shop to your favourites

For many more Vintage Sewing Patterns visit my eBay shop
'The Vintage Pattern Shop'
ITEM DESCRIPTION:
~ Please Note: You are buying a 'Professional Digitally Reproduced' copy of this sewing pattern (copied from the original sewing pattern), produced in 'Full Scale Pattern Pieces' ready to cut with full instructions included. I have a vast collection of 'Original Vintage Sewing Patterns' ranging from the 1930s-to-1970s which are precious to me, so I decided to have copies professionally made to a very high standard by a reputable printing company. Therefore part of my collection of sewing patterns are reproduced to this quality high standard, on 50 gram paper with black ink. This will ensure a much longer lasting effect and easier to be used again and again. Also included with this product is: a plastic bound 'Booklet' giving instructions and Illustrations on 'How to Adjust Your pattern to your Personal Measurement', 'Personal Measurement Chart', 'Body Form Illustrations', 'Note Pages', 'Garment History Page' and 'Fabric Worksheet'; all to facilitate with your pattern.
~ Circa/Date: 1952
~ Details: SUIT – JACKET and SKIRT by VOGUE COUTURIER DESIGN

~ Size/Measurements (Inches): Size: 16 BUST: 34″ Waist: 28″ Hip: 37″
~ Condition: Brand New Reproduced Copy. All pieces present and correct, with full instructions.

~ Customer Pictures Details: A very good customer of mine Abby kindly submitted these beautiful patterns of her finished garment of this pattern. The fabric is of a light weight 100% wool and both jacket and skirt have been lined to give the outfit more body and better tailoring. A beautiful choice of colour, giving it an authentic vintage look and feel. The skirt has been slightly moderfied to create a more penciled fit. This customer has maintained the balance of the design and this is a fine example of a beautiful creation from one of our vintage sewing patterns. She has complimented the outfit with an original vintage hat and gloves. I love it and the entire outfit looks stunning! Here is a breakdown of Abby's working progress of this garment:
"For this size 10 pattern I bought 3 metres of 150cm wide light weight wool. Anything heavier than this causes problems with bulging around seams (there are many decorative ones) and curves that need to be clipped, as well as making hand made buttonholes nigh-on impossible. The wool was as thick as I'd want to go, and allowed me to show off the panel decoration with the ability to press it properly.
This suit would also look fabulous as a summer outfit so suitable fabrics would be heavy weight silks, brocades, cottons. Avoid stretchy crepe etc as smart, crisp seams will be a nightmare. Not suitable for big patterns unless you don't mind that pattern matching will be impossible. For an edge of madness, use contrasting (but similar weight) fabrics on the sleeves or panels. London has some fantastic fabric shops in Soho and Shepherds Bush, but the internet also offers some bargains as you only need 3m. Buy good quality fabric for a professional look that hangs well.
I also used iron-on interfacing (the original pattern suggests hessian canvas which is an old means of adding body and stiffness) on the yoke and centre front panels. I ironed these on to the FACING not the outside fabric as I wanted the main body of the suit to look softer from the outside.
The colour of thread you choose is vital as there is a lot of decorative over stitching. One reel will be enough.
Choose a 7″ zip that is as close to your fabric colour as possible. You'll also need 1 skirt hook/bar for the waistband
You'll need 7 buttons + 1 spare which can be all the same size. I used 23mm ones that look perfect.
1 pair of shoulder pads. I used soft, fairly basic ones from Hobby Craft as you don't need too much definition (unlike the 40s).
Short length of very narrow ribbon or tape to use as hanging loops for the skirt.
Make sure you press every seam and dart well as you go. Keep pressing. This is what will give your suit a great finish.
Try on every component as you do it. Skirt, jacket body, sleeve etc. This will prevent any major mistakes and allow you to make alterations for a better fit. Don't be afraid to unpick and correct crooked or rucked seams. Have patience and make sure it's right.
Pin the skirt for length when you're wearing the right shoes. An inch difference makes the 1950s look authentic (or not) in a second. Use a hand blind stitch to hem the skirt invisibly. DON'T USE A MACHINE. It's taking this type of care that makes the suit look authentic and expensive. I found this YouTube clip that might help and I'm sure there are others:
https://www.youtube.com/watch?v=mp-HcRTZQZ0
I lined both the skirt and jacket with something very decorative to give it added interest and better body. If you line a skirt, it hugs your bottom and keeps bulges to a minimum, allowing the outer skirt to hang beautifully and not stretch too much. I simply cut pieces from the same outer pattern including the sleeves and trimmed both them and the facing panels to a pleasing shape before hand-stitching the whole thing inside. I used a cotton poplin that like the wool, is dry clean only.
Total Cost = £104
Time taken from start to finish, equivalent of 2 full days (but I'm a pro). Probably allow a couple of weekends on and off so you don't get too frazzled and start making mistakes."
~ Any questions please do not hesitate but contact. Thank you for looking. Please see further information below.
✦ Buy 5 patterns and get sixth pattern of your choice FREE (FREE pattern being the lowest price out of your choice of 6). This includes a choice of all Knitting Patterns, all Sewing Patterns, or, a mixture of both.
✦ Buy 10 patterns and get 3 additional patterns of your choice FREE (Free patterns being the lowest price out of your choice of 13). This includes a choice of all Knitting Patterns, all Sewing Patterns, or, a mixture of both.
✦ In addition you will save on the Excellent Combined Postage Discounts!
We have recently compiled a booklet.
The BOOKLET is named:
'A Guide to Adjusting and Altering Vintage Sewing Patterns'
Compiled by 'The Vintage Pattern Shop'. Over 60 pages, it is a comprehensive, informative booklet with full illustrations, which takes you through the first positive steps toward perfecting your fitting skills by adjusting and altering Vintage Sewing Patterns. Comes as an A4 Plastic bound booklet. You will learn a logical step-by-step Adjusting, Altering and fitting methods, that will guide you through difficult areas and reinforce what you already know. Understanding the principals and fundamentals of pattern tissue adjustments can be the beginning of a whole new wardrobe of personalized Vintage Fashion. It gives you a further range when purchasing Vintage Sewing Patterns therefore allowing you far more variety in your choice. You have widened your options!
Over the years and from my days of studying 'fashion Design and Pattern Cutting' at the London College of Fashion, I have collected on the way from various sources some brilliant information, and have compiled my favorite and most useful bits in this informative booklet to facilitate with your Vintage Sewing Patterns.
Sewing Pattern adjustments are neither difficult nor time consuming once you understand the procedure – and you need only to understand the ones you require. This booklet covers aspects of the body form where most common adjustments are required.
To view the full 'Contents List' detailing exactly what this booklet contains please go to the listing on eBay.
SALE ITEMS, DISCOUNTS and NEWLY LISTED ITEMS
By Subscribing to our Shop Newsletter you will receive updates on these. Subscribe Now by clicking on Icon at top of this page.
✦ Prior to leaving Neutral or Negative Feedback PLEASE PLEASE contact us first. No matter how small the issue or concern may be, it can be dealt with and resolved. We are very approachable and friendly, and only wish to give Brilliant Customer Service and Satisfaction, and where necessary will offer Service Recovery. We very much appreciate your understanding on this matter. Many thanks to all our new and existing loyal customers, 'You have been Wonderful!'
Buyer is responsible for returns costs for remorse returns. Thank you.