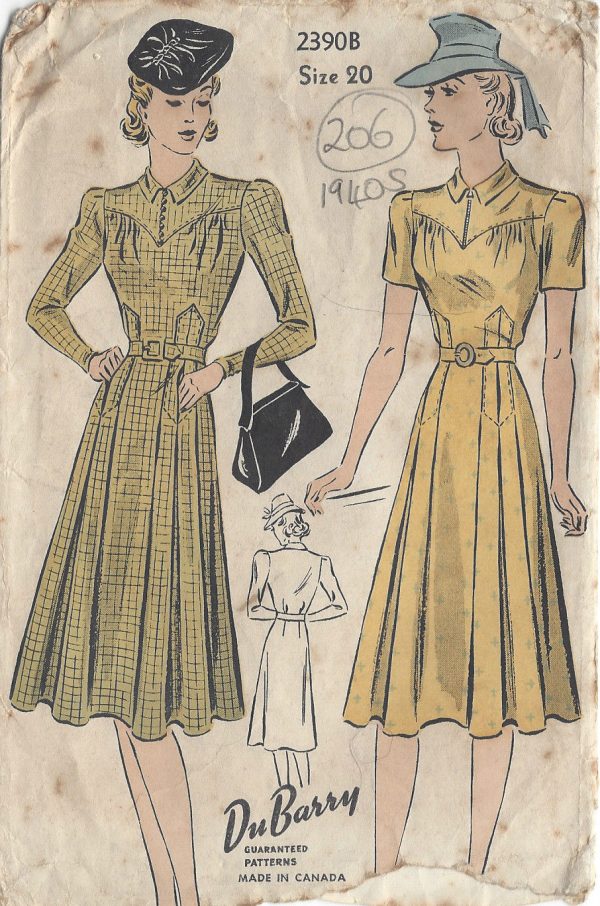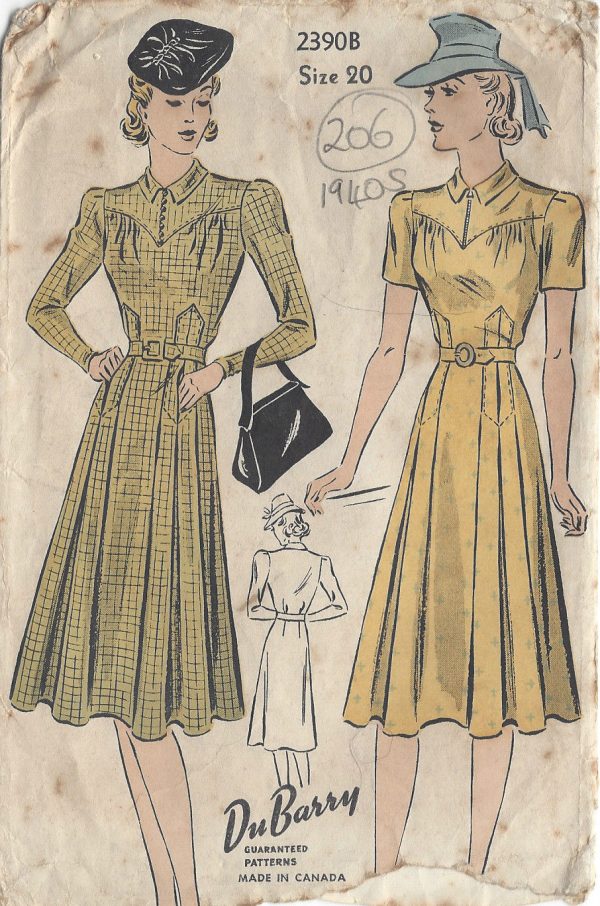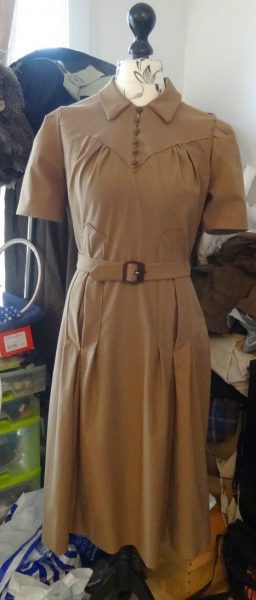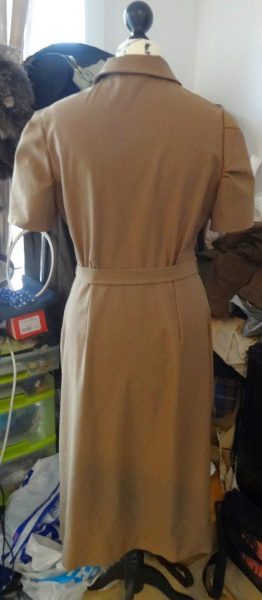 1940s Vintage Sewing Pattern DRESS B38″ (206) By Du Barry 2390B
199 in stock
Description
Additional information
Description
~ Details:   Two style variation DRESS by 'Du Barry' 
~ Circa/Date: 1940s
~ Size/Measurements (Inches):    Size: 20    BUST: 38″    Waist:  32″    Hip: 41″

~ Condition: Brand New Reproduced Copy. All pieces present and correct, with full instructions.

~ You are buying a 'Professional Digitally Reproduced' copy of this sewing pattern. Copied from the original sewing pattern. Produced in Full Scale Pattern Pieces ready to cut with full instructions included. Reproduced on high quality 50 gm. paper with black ink, durable and easier for reuse.
~ Additional Details about pictures:   (One of my very regular customers Jessica, in France, kindly submitted these super pictures of her delightful finished garment of this dress made from this wonderful Du Barry pattern. It is made from a cotton blended fabric. Jessica made it over a 2 month period, taking her time to complete.  She had to do all the finishes, including belt, cover buttons, sew the hem by hand, and also did quite a bit of embroidery by hand. Jessica is very pleased with the outcome and happy that she took her time. She says "The pattern was just PERFECT. A real pleasure, and extremely well explained". I think the fabric colour is very authentic looking of that period and she has kept to the detail of the pattern. A lovely example of a reproduced garment made from an original 1939 vintage sewing pattern. WELL DONE JESSICA!
~ Any questions please do not hesitate but contact. Thank you for looking. Please see further information below.
With the product comes a 'Booklet' and inside this booklet it includes:
~ A 2 page Instructions and Illustrations on 'How to Adjust Your pattern to your Personal Measurement .
~ Personal Measurement Chart'
~ Body Form Illustrations
~ Fitting Checklist
~ Metric Equivalency Chart
~ Note Pages
~ Fabric Worksheet
~ Garment History Page
~ 'Grandma Told Me' – Historical facts related to that year or era
We have THREE PATTERN OFFERS:
1 – Select 6 patterns, only pay for 5 = 1 FREE
2 – Select 13 patterns, only pay for 10 = 3 FREE
3 – Select 27 patterns, only pay for 20 = 7 FREE
(FREE pattern/s are the lowest price of your selection). Please contact.