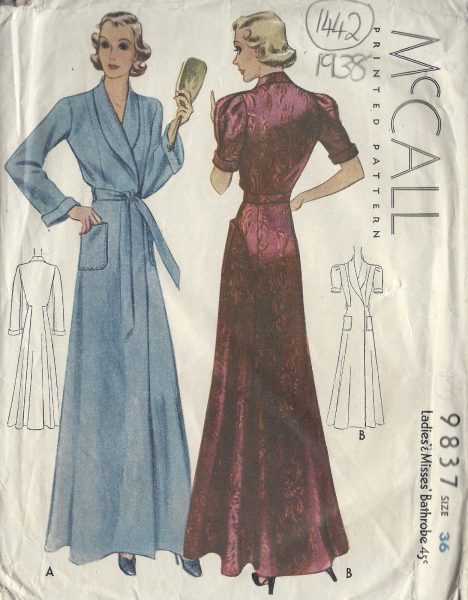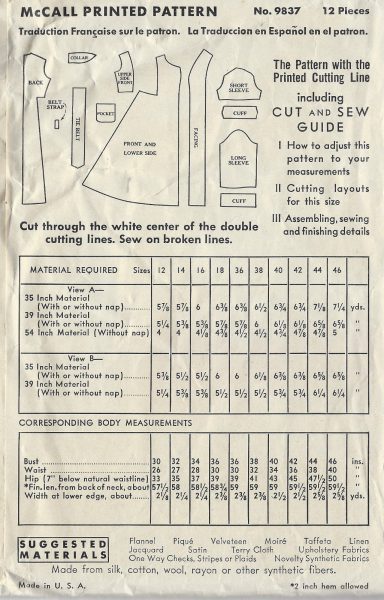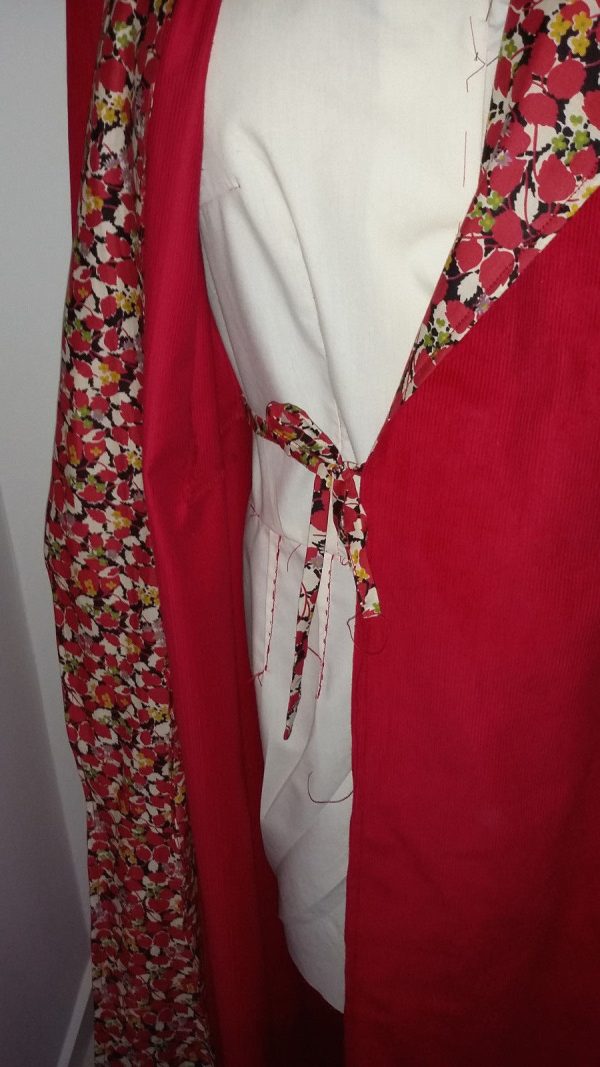 1938 Vintage Sewing Pattern B36″ BATHROBE DRESSING GOWN (1442R) by McCall 9837
184 in stock
Description
~ Circa/Date: 1938

~ Details:   BATHROBE or DRESSING GOWN

~ Size/Measurements (Inches):    Size:  36    BUST: 36″    Waist: 30″     Hip: 39″
~ Please Note: ~ You are buying a 'Professional Digitally Reproduced' copy of this sewing pattern. Copied from the original sewing pattern. Produced in Full Scale Pattern Pieces ready to cut with full instructions included. Reproduced on high quality 50 gm paper with black ink, durable and easier for reuse.
~ Any questions please do not hesitate but contact. Thank you for looking. Please see further information below.
~ With this product comes an accompanying 'Booklet' and inside the Booklet it includes:
~ A 2 page Instructions and Illustrations on 'How to Adjust Your pattern to your Personal Measurement .
~ Personal Measurement Chart'
~ Body Form Illustrations
~ Fitting Checklist
~ Metric Equivalency Chart
~ Note Pages
~ Fabric Worksheet
~ Garment History Page
~ 'Grandma Told Me' – Historical facts related to that year or era
~ Information on attached pictures  – One of my lovely customers called Pam, who is an experienced dressmaker very kindly submitted these pictures of the Dressing Gown she made from this pattern.
"The body is made of 150 cm wide red needle cord; the facing is Tana lawn.The dressing gown cost me about £55 in fabric. I used about 3m of the needle cord,  which cost £40. The lawn I cut it across the width, and probably used about 0.75 m. I have had it for decades, so have discounted the cost, but I suppose it would have cost around £15 to buy today.
It took me 2 full days to make.
I made a couple of alterations to the pattern:-
One was to stitch the tie belt to the garment across the back panel (loose belts always annoy me)and added internal ties at the waist to keep the front in place properly.
The other was to the hem. The hem is very curved,  and the pattern instructions were to gather the surplus fabric at the stitch line, instead I made a needlecord facing for the hem, which eliminated the need for any gathering and also gave a bit of extra weight to the bottom edge and improved the hang.
Although it may not show too well in the photo, the back is a particularly flattering shape, and I am going to try a knee length version in poplin as a dress."
Pam a DIVINE garment, typical vintage 30s colour and interesting fabric contrast. Many thanks from us at The Vintage Pattern Shop.

~ We have THREE PATTERN OFFERS:
1 – Select 6 patterns, only pay for 5 = 1 FREE
2 – Select 13 patterns, only pay for 10 = 3 FREE
3 – Select 27 patterns, only pay for 20 = 7 FREE
(FREE pattern/s are the lowest price of your selection). Please contact.
~ Any questions please do not hesitate but contact. Thank you for looking.