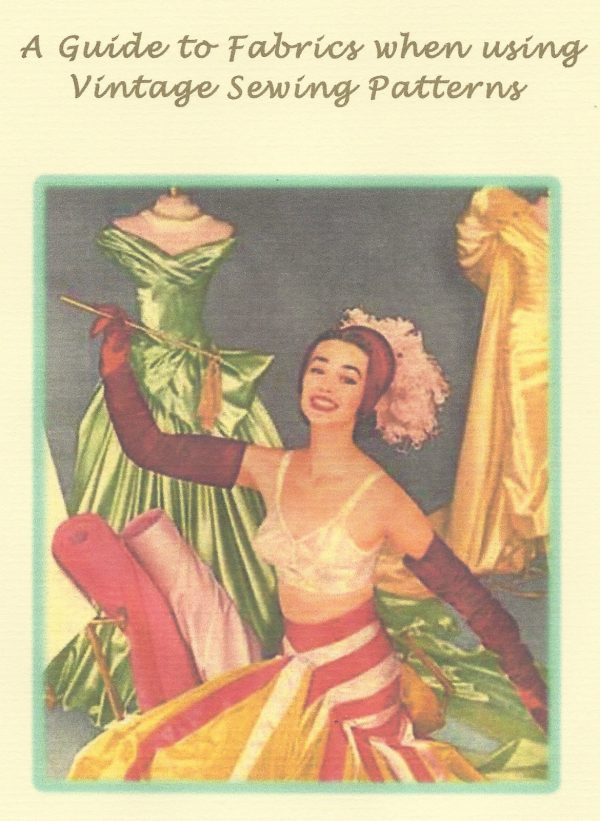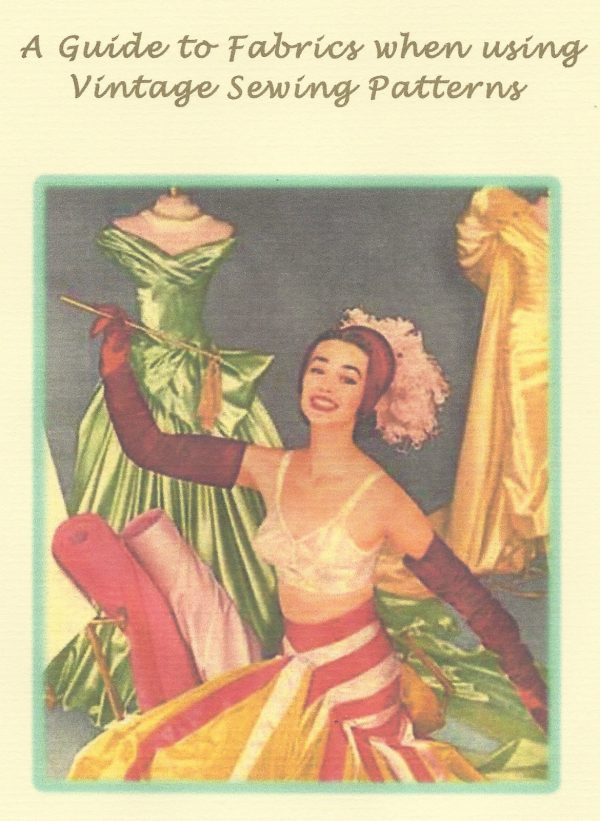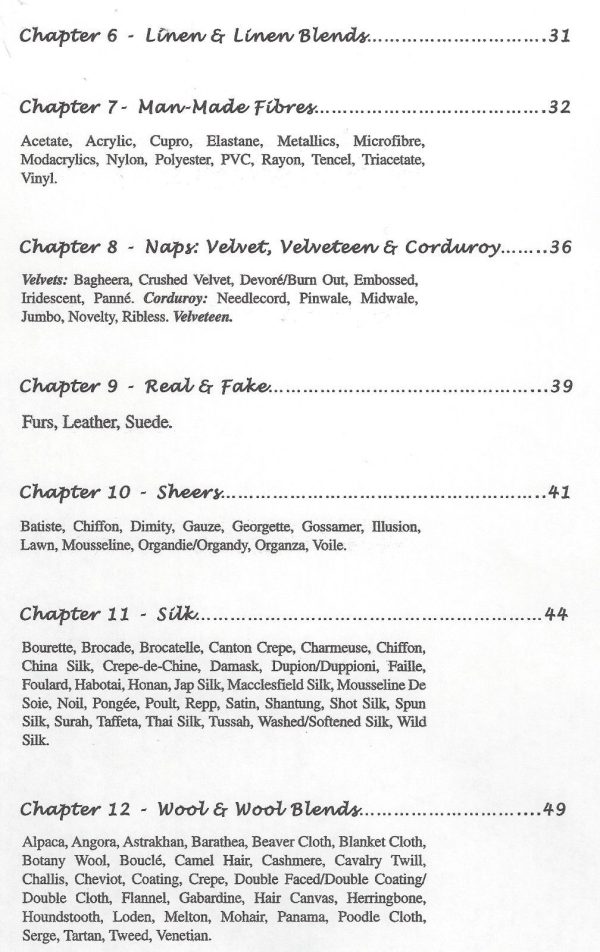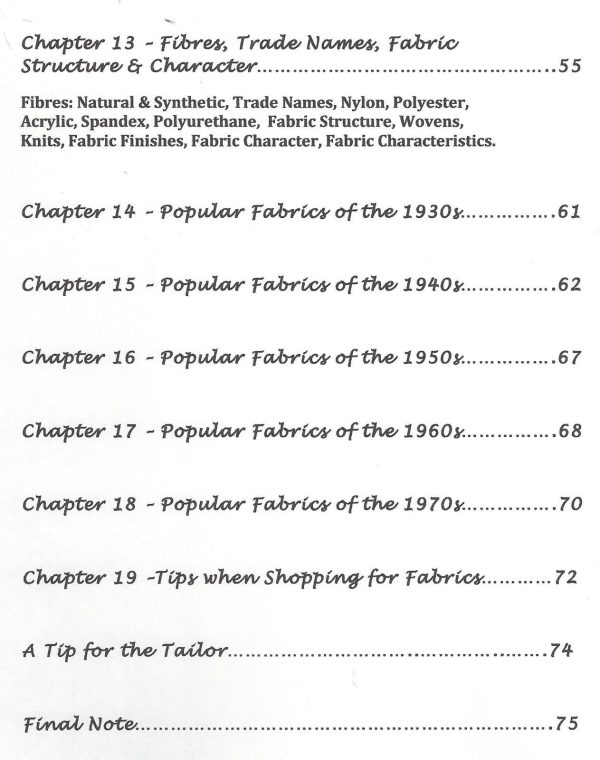 BOOKLET – A Guide to Fabrics when using Vintage Sewing Patterns
Description
Additional information
Description
BOOKLET – A Guide to Fabrics when using Vintage Sewing Patterns
Compiled by 'The Vintage Pattern Shop'. With 19 Chapters and 76 pages, it is a comprehensive, informative booklet which takes you through the required understanding of Fabric in relation to Vintage Sewing Patterns. Comes as an A4 Plastic bound booklet.
Over the years and from my days of studying 'Fashion Design and Pattern Cutting' at the London College of Fashion, understanding fabric was a big part of the learning process. I have collected some good information on the way from various sources and have now compiled the most important and most useful bits in this informative booklet to help you with your understanding of fabrics.
A knowledgeable seamstress understands the strong influence fabric can have on a finished garment, including the fit. If you do not have this knowledge, then by reading this booklet you will benefit by a basic understanding of the fibers, structure and finishes, all of which contribute to the individual characteristics of a wide range of fabrics covered in this booklet, all of which can be used when working with vintage sewing patterns.  
Learn to distinguish fabric characteristics and quality by a thorough understanding of the components that have combined to create it, and you will be one step closer to the custom fit of any vintage sewing pattern you are seeking. This booklet will help you.
Todays fabric are extensive and completely in tune with fashion and can easily be used with Vintage Sewing Patterns. Each vintage pattern comes with fabric suggestions, which are suitable to make up the style, in order to re-create the designers intentions. Faced with such a variety of fabrics, choice can be bewildering and names often confusing. I have compiled this booklet to help as a handy reference to dressmaking fabrics and fibers.
Fabric, with its characteristics, will lend its personality to the design. The same vintage sewing pattern made in two different types of fabric will not only appear different but also may drape and fit differently. Each detail of its past and components – the fiber, structure, finishes etc. – offers an indication to the way fabric ultimately feels, looks and behaves.
Using Vintage Sewing Patterns to sew up your favorite vintage look and fashions, whether you prefer the Avant-garde or more classic styles, it is the fabric that will make or ruin a garment. One of the joys of sewing vintage is giving reign to your creativity. Not only will you end up with a unique customized wardrobe of your own personal distinguished vintage styles, but your choice of fabric will lend certain exclusivity as well. You can draw great satisfaction also when you can say you make your vintage collection yourself.
The booklet begins with a list of materials, so you can see at a glance what section to look under. Next come fabric descriptions of generic fabric terms and designs. These are followed by details of individual qualities, divided into topical groups and listed alphabetically within each chapter. Included towards the end of this booklet are further chapters about Fibers, Trade Names, Fabric Structure & Character and Popular Fabrics of individual eras covering from the 1930s right up to the 1970s, all to facilitate when sourcing for vintage or modern day fabrics for your Vintage Sewing Patterns. 
Thank you and please feel free to ask any questions. 
Feedback Received:
"This is what I needed to help with the patterns that I brought from you"
"Arrived quickly, very pleased with the item!"
"pleased!"
"A very interesting booklet for dressmakers interested in vintage pattern sewing."
"Arrived quickly, very pleased with the it"

                                            "pleased!"                                                                                                                                                              

"informative and helpful material thx!"

  "A wealth of fabric terms/information gathered in one place. Invaluable !"

"Great          "booklet. Pleased to source this unusual item. Arrived quickly.""I was really blown-away by the booklets that came with the patterns to help me document the dressmaking & decide on fabrics, etc. What a treat!" 
"An excellent book answering so many questions I have had in the past. A1"
"Perfect and happy"
"great booklet, recommend to all vintage fans, quick delivery, thank you"
"excellent book excellent service very pleased thank you"
"A must have guide!! Thank you"
"Thanks, great booklet"
Please see attached pictures of the Chapter Contents 
Additional information
| | |
| --- | --- |
| Subject | |
| Language | |
| ISBN | |
| EAN | |
| MPN | |
| Brand | |