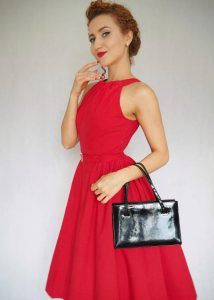 The Red Vintage-Style Dress
Made By Our Vintage Blog Queen!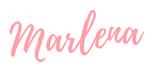 Hello, my sewing darlings! I have announced that there is something new coming up on the blog. I could not be more excited! Let me introduce you to one of the most beautiful vintage patterns I have ever seen, the vintage pattern collector who makes my knees go weak with her collection and my humble creation – The Red Vintage-Style Dress.
Even though I am now able to make my own patterns, I am still prone to perusing beautiful vintage patterns. They are simply irresistible. During one of my wild chases for the patterns my size, I came across a stunning red dress…
Details of the Pattern
It's a pattern from the 1950's, it has a deep back, gathered neckline, and a flared skirt. It has a pattern for a matching bolero too! I couldn't get this dress out of my mind and gave in to my temptation.
The pattern arrived in my mail and let me say… It surprised me on many levels.
Why is it so Special?
This pattern is different because it is an original vintage pattern, however a reproduction of the original. It is printed on a brown paper which looks very similar to vintage tissue paper, but it looks a bit more durable. Let me just say, that as much as I love vintage patterns, it was a relief to buy a reproduction. This way I had no guilt whatsoever while cutting into it. If I buy an original vintage pattern I usually trace it onto a new pattern paper and don't cut the original. It is a lot of extra work.
This pattern comes with a little booklet which is aimed to help you make your own garment. I was so pleasantly surprised by how sweet (there is a garment-making diary in there!) and useful it is! (a lot of tips about fitting and personalizing the pattern). Once I saw the beautiful pattern and the booklet, I got so elated and excited about making the dress that I decided to send a thank you message to the seller. This is where the story gets interesting. 🙂
The Vintage Pattern Shop
I got in touch with the seller to express how much I liked the pattern and we started exchanging emails. I won't bore you with too many details. Needless to say, I was enchanted with this company. Turns out that Sonny, the founder, has been collecting vintage patterns for nearly 45 years now!!!
Luckily for me, she decided to share her love with others and opened The Vintage Pattern Shop. Her company quickly became the biggest seller of reproduced vintage patterns worldwide! She has over 3000 vintage patterns on her website and she is still adding new ones regularly. Let me tell you, it is HARD to stop browsing her website once you opened it, so consider yourself warned. 🙂
Long story short, I love Sonny's collection and I became an instant fan of her company. She, in turn, made me giddy with happiness when she said she loves my blog and my creations. You couldn't imagine how nice it was to hear that someone who lives and breaths fashion for as long as she has liked my work! I couldn't help asking her if she wants to cooperate with me in some way. AND SHE DID! 😀
The BIG NEWS
I am so happy to announce to you all that I became the official ambassador of The Vintage Pattern Shop! 
In the following months, I will have the pleasure to show you my creations based on the patterns from Sonny's collection. It will be an opportunity for all of us to see the vintage patterns brought to life and worn in the modern world.
I know there is a lot of people selling vintage patterns, but Sonny's passion for vintage sewing patterns is palpable and infectious. I guarantee you will feel it when you become her client. 🙂
The Red Vintage-Style Dress – Butterick 7714
Without further ado, allow me to show you what I made.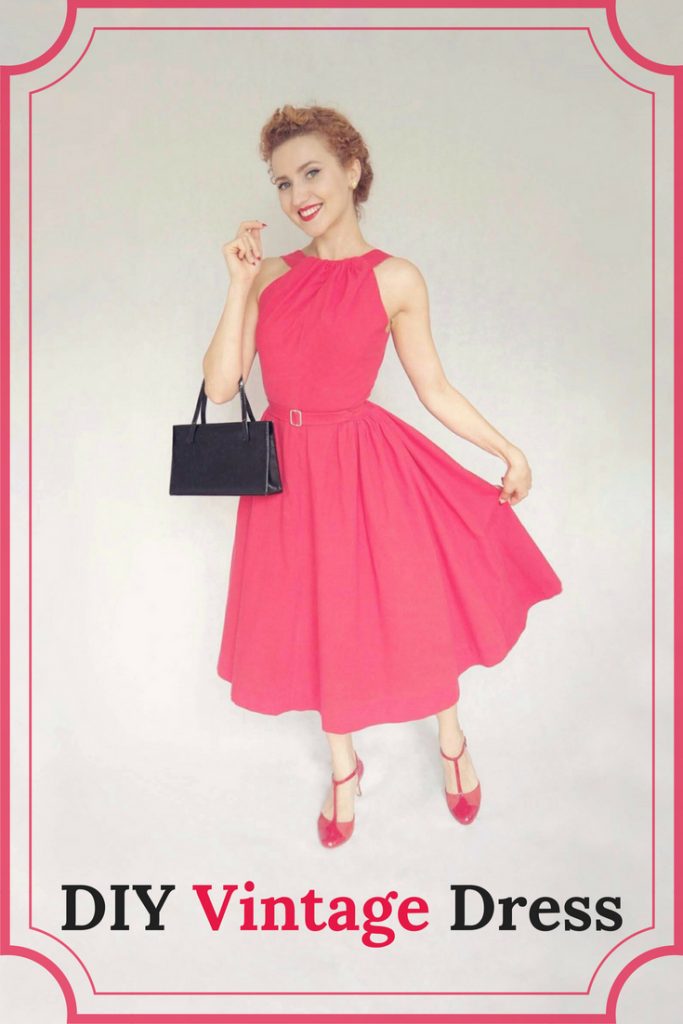 I was so in love with the illustration on the pattern envelope that I decided to make my dress red, just like the one on the cover. I chose a simple cotton fabric for my dress and it was very easy to work with. To tell you the truth, I am tempted to make one more dress in a more "party" material which has more body, but that is a plan for the future. 🙂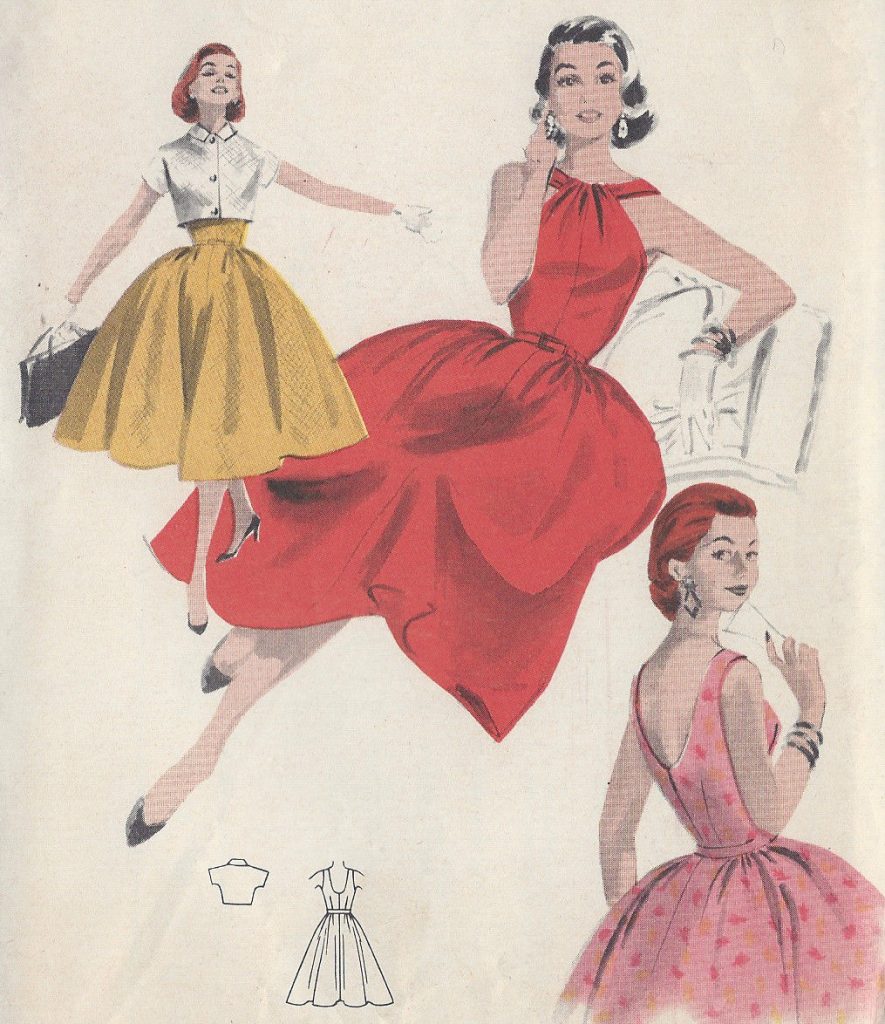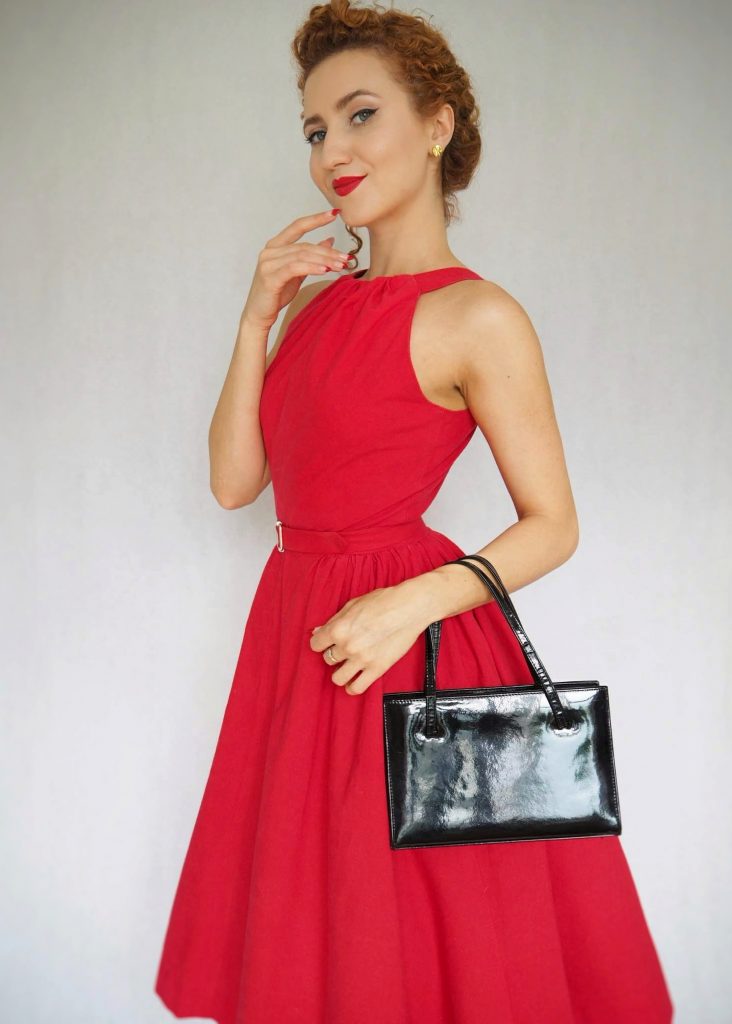 The pattern itself is surprisingly easy. I couldn't believe that I can make such a gorgeous dress in one day, but here it is! The fitting process was very easy too because the bodice fits me pretty well. The only thing I regret is not making it a bit tighter around my waist and gathering the top of the bodice instead of making pleads which would probably look more regular.
The only drawback of the pattern is that I honestly don't know how many petticoats would I have to wear underneath to make it as puffy as the dresses on the pattern's cover. Perhaps I am too infatuated with those vintage illustrations after all!
I already had a chance to take this dress downtown and I swear it stopped people in their tracks. Seriously!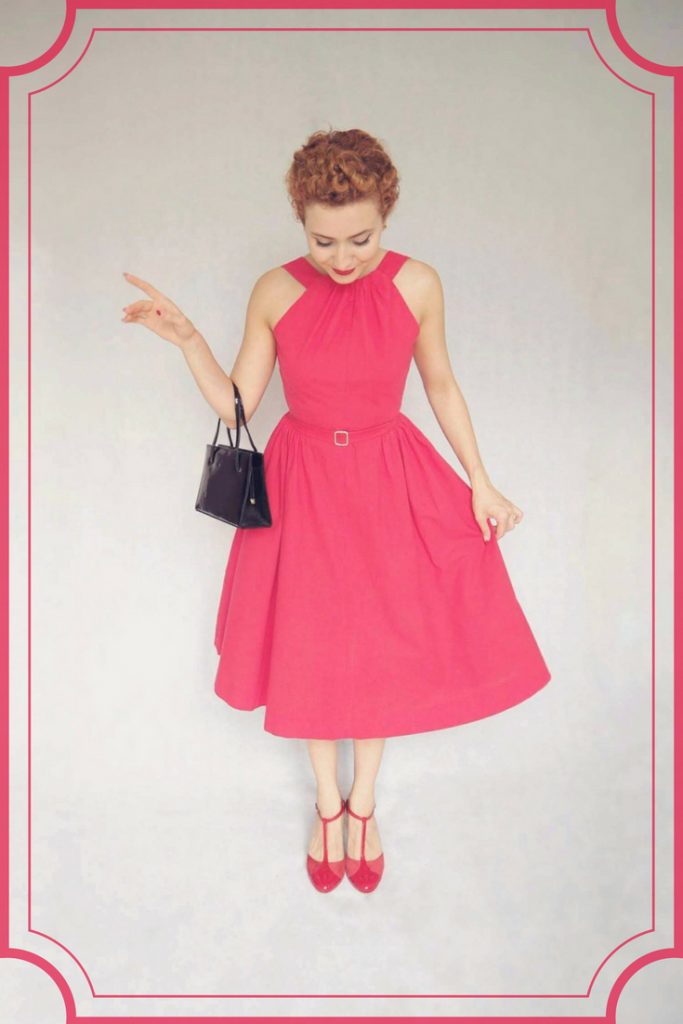 I would love to share with you guys one of my favorite memories concerning this dress. One evening, I was hurrying to catch my metro and an elderly couple was coming from the opposite direction. When I got closer to them, I suddenly saw the lady stop in front of me, she clasped her hands over her heart and exclaimed: "You are LOVELY!". Let me just add that I currently live in Norway and people here are not exactly known for profuse emotional reactions to anything, so her kind, enthusiastic words truly touched me.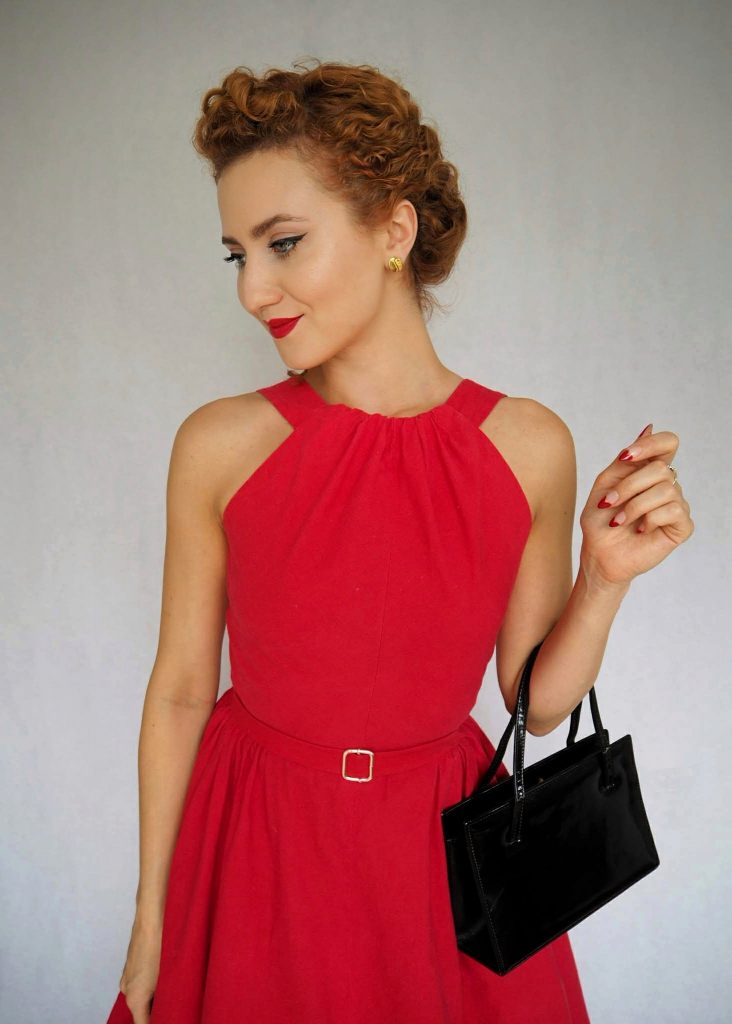 Please let me know in the comments what do you think about this dress. Did you like how it turned out?
You can contact me at:
Would you like to make this dress? If yes, here is the link.
Click in peace. 🙂 I wrote this post out of genuine love for The Vintage Pattern Shop and this stunning dress.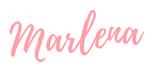 Marlena's next blog coming soon!