The Hippie Chic, Glam Rock, Disco and Punk Era
Hannah Greenwood
1970s Revival: Vintage Sewing Patterns
Whilst previous eras were very much about following fashion and being on trend, the 1970s was about rebellion, breaking rules and putting your own spin on the trademark pieces. It was all about individuality, and how you wore staple items such as mini-skirts and bell-bottoms. The silhouette that was in vogue for both men and women was tight at the top and loose at the bottom. Fashion was liberated from the rulebook along with gender conformity as women's rights became a huge issue, and variety was epitomized in the youth counterculture movement and the different streams of those such as mods, rockers, teddy boys, hippies, and punks, as well as clothes inspired by the black power movement. At The Vintage Pattern Shop, we can help you achieve a 1970s look where you can put your own twist on the patterns you pick.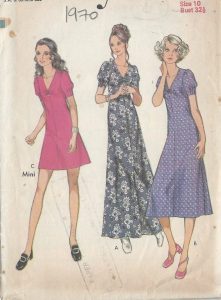 Dresses and Skirts
Wrap dresses and halter-necks were ideal to get the tight top of the garment to a looser fitting towards the bottom. It was the era of the midi-skirt, yet women were free to choose between any length in skirt or dress, from thigh-skimming mini-skirts to flow-length maxi-skirts. Patterns were bold designs such as flowers, as well as those in more saturated colours. At The Vintage Pattern Shop, you can explore our range of dresses and skirt patterns to see which style you like best.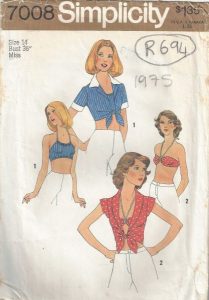 Tops and Bottoms
Power suits were all the rage in the 1970s, and these were always completed with bell bottom designs, and available in bright, bold colours and patterns to make sure you stood out from the crowd. Jumpsuits were also a popular choice to achieve this look, and like the lengths of skirts and dresses, bottoms could also range in length. As well as the big bell-bottom trousers, you could also get hot pants. As designs were often worn loose, tops and blouses from the 1970s tended to bare more flesh to give an added dose of sex appeal to the desired look. These might include a tie at the waist to give the contrast between loose bottoms and the tightness of the top. Check out our available patterns for tops and bottoms online.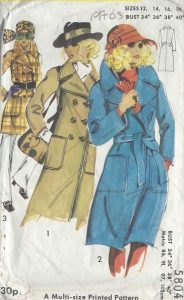 Jackets and Coats
Our 1970s vintage jackets and coats also include suit jackets to go with bell bottoms, with the ability to cinch in the waist to obtain the desired silhouette with the looser bottom. Fabrics were often far-ranging, from velvet, leather, and sheepskin. These were worn full and loose, as well as more tightly tailored.
Other
At The Vintage Pattern Shop, we also stock some other vintage items from the 1970s. This includes a mid-1970s swimsuit and hat pattern, where you can recreate a matching patterned swimsuit with skirt and bow detailing, and a stunning sun hat. 
Contact
If you would like to discover more about 1970s fashion patterns, please get in touch through our web contact form, or email us at thevintagepatternshop@yahoo.com. You can also contact us directly on either (0044) 1621-331441 or (0044) 7595261171. A member of the team will be happy to assist you.