Vintage Sewing Patterns: 1950s Revival
Hannah Greenwood
Known as the fabulous fifties, this post-war era had a positive energy, increased economic prosperity, and a 'baby boom'. It is also considered a time where the concept of a teenager was born, meaning fashions were developed with youth culture in mind. Today we will look at 1950s fashions and the vintage sewing patterns we have, so you can recreate these styles for yourself.
Dresses and Skirts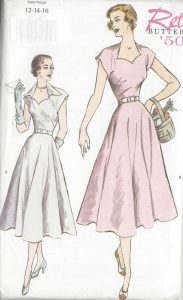 The early 1950s is known for its full, circle skirts and dresses that were often given extra volume with the use of petticoats underneath. Later in the era, Cristobal Balenciaga popularised the slim skirt style. The key factor with all these designs was to create an hourglass silhouette from the cut of the fabric. Along with the skirt and dress patterns available at The Vintage Pattern Shop, you will also find sewing patterns included for matching jackets and are available as suit patterns. Not only that, but many of the pattern listings are recreated from Vogue magazine, as well as other iconic fashion publications. Whether you're looking for evening wear or day dresses, we have a wide range of patterns to suit your desires.
Aprons 
The 1950s had strict gender roles, with the role of women commonly being restricted to being a housewife. From this, we can take the fun element of aprons, with styles that can add a nice touch when hosting a dinner party, and others that can be really practical with their pocket details, and protection for what you're wearing underneath. 
Tops and Bottoms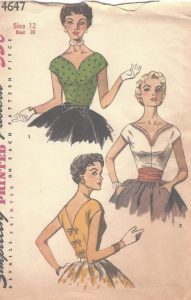 Despite the heightened femininity of 1950s fashion, trousers were also a popular choice. Still keeping the feminine edge with a cinched waist and slim fit, Capri and cigarette trousers were the most commonly worn styles, along with shorts and pedal pushers. Blouses and shirts were neatly structured and designed to tuck into the high waistbands of skirts and trousers, keeping in line with the hourglass silhouette. 
Coats 
The coat patterns of the 1950s came in a range of popular styles. Longer designs were made in keeping with the hourglass figure created by the dresses and skirt underneath, such as trench coats. Shorter fashions included capes that were often cinched in with a belt, box-like topper jackets, or cropped styles such as bolero jackets. The pea coat was also a popular style, with a shorter hemline. 
More, more, more!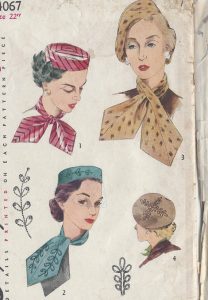 Work that '50s look from the beach to the bedroom, with our range of patterns for lingerie, nightwear, and swimwear. Bathing costumes often featured small skirts and shorts, and reflected the styles you would see in dresses. Underwear included petticoats and slips to be worn under dresses. We also stock a variety of patterns for hats and accessories, which offer the perfect finishing touches to your 1050s-inspired look.
Contact 
If you would like any more information about our range of 1950s vintage clothing patterns for sewing, or anything else of interest, please contact us by filling in our contact form, by emailing us at thevintagepatternshop@yahoo.com, or by phone on 01621 331 441 or 07595261171.